Spring is a busy season for farmers. It's time to prep the soil for planting and get seeds into the ground. Weasler products help make tasks on farms of all sizes easier and more efficient. Our drivelines, clutches, gearboxes and other components help original equipment manufacturers and farmers safely transfer power from a tractor to a wide variety of implements.
All in a day's work on the farm
Year-round, Weasler products are used in a wide variety of agricultural equipment. In the springtime, our innovative power transmission technology brings efficiency and speed to a full range of field preparation and planting equipment, including:
air drills
ditchers
fertilizer spreaders
manure handling equipment
planters
post hole diggers
shredders
tillers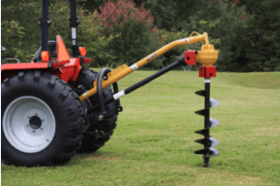 For our OEM customers, Weasler driveshaft solutions help you design and build equipment that adds signficant value to a farmer's day. And for farmers, Weasler products give you the peace of mind to know that you are working productively and making optimal use of your valuable time.
Weasler products work hard for the life of your machines
When you purchase a new piece of agricultural equipment for your farm, there's a good chance that you're putting Weasler to work for you. Weasler supplies all of the major agricultural equipment manufacturers with critical components for power transmission. Most of the systems and components we design for OEMs are customized to deliver the best performance and value for each application.
And if equipment repairs are needed to your equipment, you can find Weasler aftermarket parts and service through our global distribution and dealer network. While you can handle many simple repairs right on your farm, more complex service may require agricultural mechanics. Many of the dealers in the Weasler network also provide drive shaft service in addition to parts.
Fun facts on the spring and fall equinox
In the Northern Hemisphere, spring officially arrived on March 20 this year. Called the vernal equinox, this day marked the official astronomical start of the spring season in North and Central America, Europe, Asia, Northern Africa and other regions above the equator. Similarly, Australia, South America, South Africa and other lands of the Southern Hemisphere welcomed the start of fall.
Each year, we celebrate an equinox on March 20 or 21 and on September 22 or 23. On these days, the tilt of the Earth's axis is exactly 0°, so inclined neither away from nor toward the sun. Both days are almost equal in length in terms of day and night. 
What can we design for you?
Weasler provides the most extensive and complete range of drive shafts, gearboxes, and clutch products for agricultural and lawn & garden equipment. We supply agricultural OEMs around the world and offer a full aftermarket program to a worldwide network of distributors and agents. Need a custom OEM solution? Contact us now.