Your safety is our concern. Please read and adhere to the following guidelines to help ensure the safe use and operation of all Weasler driveline products.
Do not operate a PTO drive shaft without:
All PTO drive shaft guards, tractor, and equipment shields in place
PTO drive shaft securely attached at both ends
PTO drive shaft guards that turn freely on the PTO Drive Shaft
Reading the operator's manual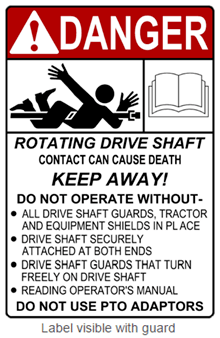 As part of Weasler Engineering's ongoing commitment to the safety of PTO drive shafts, we are a member of ADMA, the Agriculture Driveline Manufacturers Association. ADMA's mission is to promote increased safety awareness in regard to the design, operation, and maintenance of agricultural drivelines. The organization's primary focus is to develop educational materials that address these goals with the hope of reducing farm-related injuries throughout North America.
Aligned with the world's leading safety standards
Weasler recognizes the safety standards from these industry-leading organizations:
California Proposition 65 Warning
These products can expose you to chemicals including carbon black, isoprene, and nickel which are known to the State of California to cause cancer and/or birth defects or other reproductive harm. For more information visit www.P65warnings.ca.gov.