Higher Value • Smarter Solutions
Menu
News
Spring is a busy season for farmers. It's time to prep the soil for planting and get seeds into the ground. Weasler products help make tasks on farms of all sizes easier and … More»
Are you planning to attend SIMA 2019 this month at Paris Nord Villepinte in France? This leading international agri-business show runs from February 24-28 and brings together more than 1,800 companies from … More»
The American Society of Agricultural and Biological Engineers (ASABE) has named Weasler Engineering's High-Torque Automatic Clutch the winner of a 2019 AE50 award. AE50 awards honor the year's most innovative designs in … More»
New Product Offerings
Weasler Engineering's commitment to continuous improvement is demonstrated through our new product offerings and development process. Our emphasis on customer needs drives our new product development process to create quality solutions.
Check here regularly for updates on our new product offerings.
The all-in-one gear reduction and wheel drive allows bin sweep systems to operate with less downtime to maximize your productivity, efficiency, and earnings.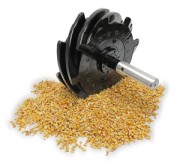 ---