From modest beginnings in 1951 with only seven employees, Weasler Engineering has expanded to more than 340 employees worldwide and manufacturing sites in the U.S. and Europe. This year, Weasler celebrates 70 years of growth, excellence, continuous improvement and exceptional customer service.
"Weasler's 70th anniversary is a great illustration of the exceptional customer value proposition that is represented across all of our brands," said CentroMotion CEO Roger Roundhouse. "A strong foundation of subject matter expertise, application know-how, a customer-centric approach and exceeding customer's expectations have proven to be the formula for their successful growth. Congratulations to the entire Weasler team, past and present, on this achievement. And of course, a big thanks to our customers and suppliers for enabling our success at Weasler."
Weasler Engineering is the culmination of a dream by Anthony V. Weasler (pictured above, center), who first formed his power transmission manufacturing company in a small building just a few miles north of its present U.S. location in West Bend. Initially manufacturing agricultural universal joints for a single customer, Allis-Chalmers, Weasler worked to grow the business. By 1955, Weasler Engineering had outgrown its initial site and moved to its present location. A small-town inventor and entrepreneur, Weasler built a strong foundation for the business through learning, listening, growth and building relationships.
Throughout the next 20 years, Weasler Engineering focused on progress and expansion, building two additions to the West Bend site. In the 80s, the OEM and aftermarket divisions expanded and became separate entities, and an application engineering department was developed. Weasler always advocated for education and excellence, so in the 90s, a learning center was created, followed later by a test lab. A third expansion in 2016 increased the facility to approximately 220,000 square feet of manufacturing and office space.
Known for his creativity and innovation, Weasler was awarded 15 patents throughout his career and inspired that same pioneering spirit in his employees. Together, 43 patents have been earned in Weasler history. Over the years, Weasler has developed driveline solutions that have become the gold standard in the industry and shaped agricultural PTO driveshaft technology. In addition to numerous patents, Weasler also has earned countless ASABE product innovation awards for products, including a 50- and 80-degree wide angle constant velocity joint; Auto-Lok yokes for easy hook-up of a PTO drive shaft; TorQmaster friction clutches; TorQmaster automatic cam-type, cut-out clutches; the "E" (extended lubrication) cross kits; 77 Series heavy-duty drive shafts; and a high-torque automatic clutch.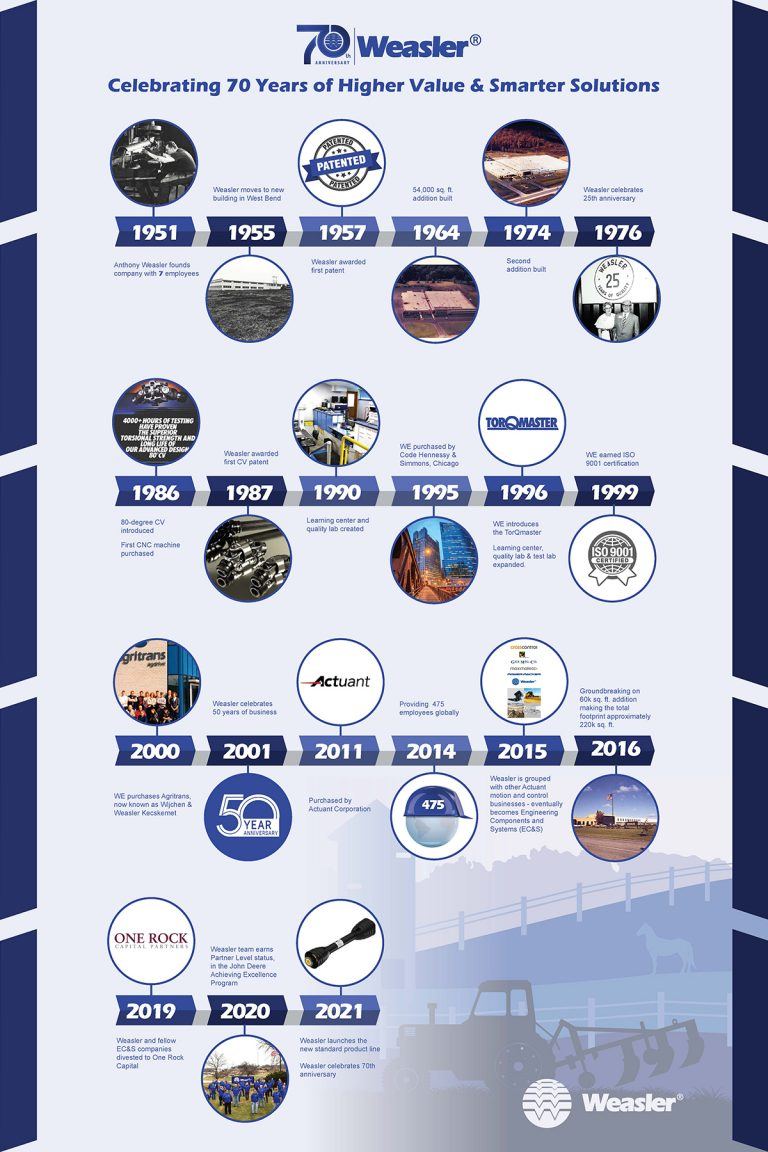 (Click the above image for full screen viewing.)
Anthony Weasler retired in 1995 at 90 years old, and the family sold the company to Code Hennessy & Simmons, Chicago. In 2000, Weasler Engineering became a global entity when it purchased Agritrans Netherlands/Hungary. The next 10 years brought a chain of short ownership periods. Weasler was sold in 2003 to Industrial Growth Partners, San Francisco; to American Securities Capital Partners, New York in 2005; and to Actuant in 2011.
Since 2020, Weasler Engineering has been part of CentroMotion, which was formed when Enerpac, previously known as Actuant, sold its engineered components and systems business segment. The Weasler brand is widely recognized for unsurpassed quality, on-time delivery, consistent reliability and exceptional service. In 2020, Weasler earned John Deere's highest supplier rating, Partner Level status, in the John Deere Achieving Excellence Program.
The culture created and cultivated by Anthony Weasler has never wavered. That pioneering spirit still shines brightly today. Weasler Engineering is now a global leader in the manufacturing and distribution of mechanical power transmission solutions for agricultural machines. Agriculture, lawn and turf and industrial OEMs worldwide look to Weasler for innovative and dependable drive train systems and components.