On a farm, hazards can crop up in an instant — particularly in a grain bin. At Weasler Engineering, our engineers work to design driveline systems and components that make your day easier and more efficient, while working to eliminate potential dangers that might arise.
Weasler's GM Series Bin Sweep Wheel Drive
Weasler's patented, American-made GM Series Bin Sweep Wheel Drive provides improved performance and enhanced productivity of your existing sweep system. Its aggressive tread pattern allows the wheel to dig through compacted grain and remain in contact with the bin floor, which means higher driving forces into the grain pile. The fluted tread design extends the auger closer to the grain bin wall, minimizing the amount of grain that is missed by the sweep or pushed past the wheel. And removing grain effectively from a grain bin means there are fewer reasons for you to need to enter the bin.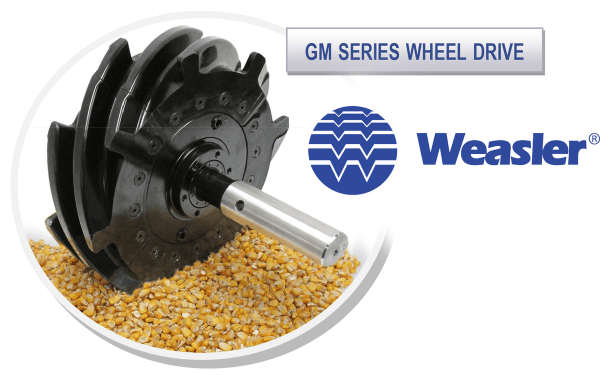 What Our GM Series Wheel Drives Offers You
Features:
All-in-one gear reduction and wheel design with fluted treads helps move more grain away from the wall toward the auger
The cycloidal gear drive provides improved durability and higher ratios
Polyurethane treads provide long life in all types of grain and also allow the seep to maintain a high driving force into the grain pile
Wide range of ratios allows you to configure the GM wheel drive for optimal performance based on auger size and bin diameter
Benefits:
Improved overall sweep performance for maximum productivity
Reduced hazard potential for an operator (less time in the bin)
Greater durability and profitability due to reduced maintenance, less downtime and lower cost of ownership
Complete drive system including center drives, auger drives and U-joints for ease of use and set-up
Smart Tips for Grain Bin Safety*
Always break up crusted grain with a long pole from outside the bin and be mindful of electric lines.
If you do enter a bin, wear a harness attached to a secured rope.
Stay near the outer wall of the bin and keep walking to get to the ladder or safety rope as quickly as possible if grain starts moving and you're inside.
Have at least one other person outside the bin in case you become entrapped. Make sure they're trained on rescue procedures and know the safety procedures and rules for entering the bin.
Anyone working in a grain bin needs to wear a dust filter or respirator.
Stay out of grain bins, wagons and trucks when unloading equipment is running.
If you do enter the bin, make sure all augers and fans are off and locked so they are not accidentally turned on while in the bin.
Keep children far from bins, wagons or trucks.
Install ladders inside grain bins for an emergency exit whenever possible and paint bright stripes so it can easily be located in a dusty bin.
*Source: University of Illinois Extension
What Can We Design for You?
Let Weasler engineers help you match a system for your specific agricultural application. Email oemsales@weasler.com now.