Higher Value • Smarter Solutions
Menu
News
Spring is a busy season for farmers. It's time to prep the soil for planting and get seeds into the ground. Weasler products help make tasks on farms of all sizes easier and … More»
Are you planning to attend SIMA 2019 this month at Paris Nord Villepinte in France? This leading international agri-business show runs from February 24-28 and brings together more than 1,800 companies from … More»
The American Society of Agricultural and Biological Engineers (ASABE) has named Weasler Engineering's High-Torque Automatic Clutch the winner of a 2019 AE50 award. AE50 awards honor the year's most innovative designs in … More»
Torsional Dampers
Weasler torsional dampers are designed to provide significant reduction of vibration in many types of powertrain systems, protecting drivetrain components from excessive wear. By reducing torsional vibration, component life is increased while providing for greater operator comfort and reduced material fatigue.
Weasler torsional dampers are lightweight yet robust, providing the torque capacity that the application requires, and are desirable for off-road, marine, agricultural, lawn & turf or any application where cost effective torsional damping and vibration eliminating solutions are needed.
Torsional damper designs are available in either flywheel and shaft mounted configurations, and are specifically designed to meet the needs of the application.
To determine how Weasler can help you, please contact our North American design team (oemapplications@weasler.com) or our European design team (sales@weasler.nl) and let them work with you to identify the PTO drive shaft to fit your specific application.
This damper is available as one, two or three stage and has a variety of deflection rates available to meet the needs of your application requirements.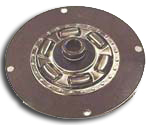 Shaft Mounted Torsional Damper
This damper design is referred to as a shock absorbing flexible coupling or SAFC. A variety of deflection rates are available to meet the needs of your application requirements.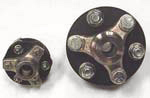 ---