Higher Value • Smarter Solutions
News
Spring is a busy season for farmers. It's time to prep the soil for planting and get seeds into the ground. Weasler products help make tasks on farms of all sizes easier and … More»
Are you planning to attend SIMA 2019 this month at Paris Nord Villepinte in France? This leading international agri-business show runs from February 24-28 and brings together more than 1,800 companies from … More»
The American Society of Agricultural and Biological Engineers (ASABE) has named Weasler Engineering's High-Torque Automatic Clutch the winner of a 2019 AE50 award. AE50 awards honor the year's most innovative designs in … More»
Research and Development
Weasler constantly uses personnel resources and engineering tools to develop new and innovative products and improve current products. Designers, laboratory technicians and customers work together to create the best final product. A team approach is used for product development starting from basic research going through to production.
Solid modeling, stress and kinematic analyses aid the engineers with initial designs. Weasler's engineering laboratory houses numerous, specifically-built machines to test function, durability and reliability. Laboratory personnel use modern data acquisition equipment – and work with customers to validate designs directly on the customer's machine in actual field conditions.
To determine how Weasler can help you, please contact our North American design team (oemapplications@weasler.com) or our European design team (sales@weasler.nl) and let them work with you to identify the PTO drive shaft to fit your specific application.
Finite Element Analysis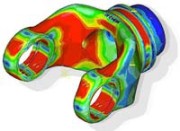 Reliability Testing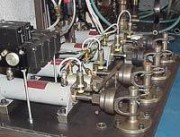 Field Data Acquisition